Laconia, the region in Greece from which many of our members hail, is a rugged land defined by the twin mountains Taygetos and Parnon, with its capital in Sparta (Σπάρτη, Spárti). The region is full of smaller towns and villages, with their own unique cultural traits, which vary noticeably from each of Laconia's sub-regions which include:
1. Eastern Mani (Ανατολική Μάνη)
2. Elafonisos (Ελαφόνησος)
3. Eurotas (Ευρώτας)
4. Monemvasia (Μονεμβασία)
5. Sparta (Σπάρτη)
Many parts of Laconia boast world-renown archaeological, historical and religious sites, and we hope to share with our members a snapshot into the beauty of our home-region. If visiting Laconia as a tourist, or if moving back to Greece, the following locations and sites are not to be missed: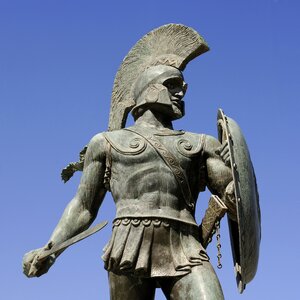 Sparta, re-founded in 1834 near the ruins of Ancient Sparta by King Otto of Greece, boasts beautiful sites and cultural institutions. Situated between the idyllic Mt. Taygetos and Mt. Parnon, you will want to visit:
The Statue & Tomb of King Leonidas
The Museum of the Olive and Greek Oil (129 Othonos-Amalias Street)
The Archaeological Museum of Sparta (71 Saint Nikon Street)
The Spartathlon Marathon
Mystras or Myzithras is a Frankish-Byzantine castle built by William II of Villehardouin on the slopes of Mt. Taygetos north of Sparta. It was famed as the seat of the Byzantine Renaissance and was home to the Palaiologos family, the Despots of Morea and Byzantine Emperors.
In Mystras you will want to visit:
The Franco-Byzantine Fortress
The Metropolis of Saint Demetrius
The Churches of Holy Wisdom & Hodigitria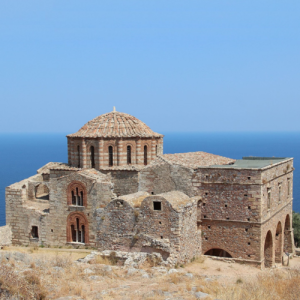 Monemvasia is another rocky island off the coast off the eastern coast of the Peloponnese, which was the site of powerful medieval fortress used by the Byzantines, Franks and Ottomans. When in Monemvasia you will want to visit:
The Frankish, Byzantine and Ottoman fortifications
The many Byzantine churches including Holy Wisdom (Agia Sophia)
The home of famous modern Greek poet Yiannis Ritsos
Elafonissos is an island off the eastern prong of the Peloponnese, famous for its world renown beaches which are frequented by Hollywood celebrities such as Brad Pitt, George Clooney and Angelina Jolie.
The most famous of its beaches include Panagias Nissia, Fragos and Sarakiniko. Moreover, the submerged ancient city of Pavlopetri (Παυλοπέτρι) lies just off the coast of Elafonissos, and was settled in the early bronze age, making it one of the oldest in the Mediterranean.